Former Takalar regent stands trial for alleged graft
Andi Hajramurni
The Jakarta Post
Makassar, South Sulawesi | Thu, February 22, 2018 | 09:08 pm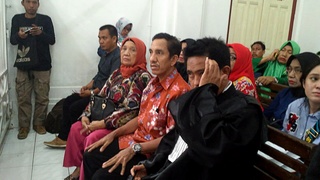 Suspected: Former Takalar regent Burhanuddin Baharuddin (center, in red batik shirt) gets ready to attend his first graft trial at the Makassar Corruption Court in Makassar, South Sulawesi, on Feb.22. (JP/Andi Hajramurni
)
Burhanuddin Baharuddin, 55, a former regent of Takalar, South Sulawesi, who ended his term of office just two months ago, attended his first graft trial at the Makassar Corruption Court on Thursday.
Burhanuddin stands accused of misusing his authority by issuing a permit that allowed the use of state land in Laikang, Takalar regency, South Sulawesi, as an industrial compound. His decision reportedly incurred Rp 17 billion (US$1.19 million) in state losses.
Prosecutors said that by issuing the permit, the defendant had sold state land to a private entity.
"The defendant issued a land use permit, selling 150 hectares of state land to private firm Karya Insan Cirebon, an investor that would use it as an industrial area in 2015. It was declared in 1999 that the land would be used to house a transmigration settlement," said prosecutor Ahmad Syah.
The piece of land is reportedly worth Rp 18.5 billion.
Proceeds from the sale was allegedly distributed among residents of the area, including the defendant's family members – his father, his wife and children.
The defendant is charged with violating Law No.20/2001 in the Criminal Code (KUHP) on corruption.
Mangarabombang district head Muhammad Noor Utary, Laikang village head Sila Laidi and the village's secretary Risno Siswanto have also been charged for their alleged involvement in the case. (ebf)