Yogya university cancels counseling program for 'niqab'-wearing students
Bambang Muryanto Bambang Muryanto
The Jakarta Post
Yogyakarta | Sun, March 11, 2018 | 12:32 pm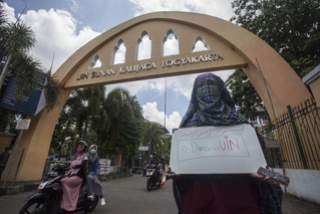 Activists protest Sunan Kalijaga State Islamic University's ban on the 'niqab' on March 8. (Antara/Andreas Fitri Atmoko)
Sunan Kalijaga State Islamic University (UIN Sunan Kalijaga) in Yogyakarta decided to revoke a counseling program for niqab-wearing students on Saturday after becoming the first university in Indonesia to prohibit full Islamic veils on campus.
The decision was made to maintain "a conducive academic climate," UIN Sunan Kalijaga rector Yudian Wahyudi said in a statement received by The Jakarta Post.
He did now, however, mention whether the university would rescind its ban on the niqab, for which it has received criticism from religious and law experts who call it discriminatory and a human rights violation.
Yudian said the move was a show of UIN Sunan Kalijaga's commitment to moderate Islam.
"These girls must understand that the niqab is just a part of Arabic culture, therefore it is not appropriate in Indonesian society," he said recently, adding that the ban would also prevent security and attendance issues.
"If we can't see the student's face, we cannot confirm whether it is really her attending the lecture. Furthermore, the niqab is not part of the school's dress code."
Upon implementing the ban, the university announced it would provide a counseling program for niqab-wearing students with the aim of encouraging a dress code in line with moderate Islam.
Forty-one students were registered in the program, which would have been led by five experts in the fields of psychology, Islamic studies and social science, when it was cancelled. (srs)