New 'comfort women' memorial removed from thoroughfare in Manila under pressure from Japanese Embassy
KYODO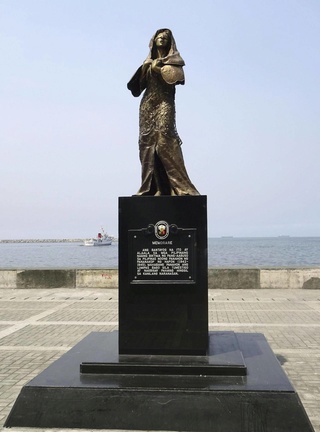 A memorial dedicated to the Filipino﷯'﷯comfort women' is shown in March. The statue, installed in December, was removed from a boulevard in Manila on Friday. | KYODO
APR 28, 2018
MANILA – A new memorial dedicated to the Philippines "comfort women" forced into Japan's military brothels before and during World War II was removed Friday night, days after suspicions surfaced that it was being targeted for demolition.
The bronze statue of a blindfolded Filipino woman, erected in December, was removed from Roxas Boulevard in Manila. Workers left behind only debris fenced in by makeshift barriers.
Around two weeks ago, a Department of Public Works and Highways backhoe was seen parked beside the memorial, sparking speculation that it was to be demolished.
Local women's rights organization Gabriela and cultural group Kaisa Para sa Kaunlaran (Unity for Progress) last Wednesday expressed their opposition to removing it, with both groups vowing to write to the government about the matter.
Government workers in the area Saturday morning said the memorial was removed so that pipes could be laid underground.
According to the Japanese Embassy in Manila, the Philippine government notified it before taking the statue away. The issue of the comfort women, Japan's euphemism for the girls and women, is a sensitive one for Japan, and the embassy had expressed concerns over the statue, one of many sprouting up in South Korea, the United States and elsewhere to memorialize an episode of history Japan would rather forget.
In January, Internal Affairs and Communications Minister Seiko Noda visited Philippine President Rodrigo Duterte to express displeasure over the memorial.
Since then, the Philippine government has been sending mixed messages on whether or not it supports advocacy efforts on behalf of former comfort women.
Duterte said in January that he cannot curtail the freedom of expression demonstrated by the groups who pushed for the statue to be erected. But his Foreign Affairs Secretary, Alan Cayetano, said the Philippines cannot strengthen its relationship with Japan if it keeps inflaming a matter that is considered "settled."
The Japan Times